By James Slaymaker.
The prospect of Aster breaking away from the restrictions of a three-act generic formula may initially sound promising, offering Aster the opportunity to liberate his style and delve into more unbridled filmmaking territory; unfortunately, however, Beau is Afraid feels just as airless and over-calculated as the efforts that preceded it."
Although Beau is Afraid, a meandering, absurdist tragicomedy, may seem, at first glance, like a radical departure for a filmmaker who has thus far been known for crafting self-consciously brutal and portentous horror, but it doesn't take long to realise how the film fits into Ari Aster's ongoing auteurist project. If there is a single central theme that runs throughout Aster's body of work so far it is the paradoxical combination of intimacy and toxicity that drives abusive relationships. In Hereditary (2018), the supernatural curse which plagues a family following the death of the youngest child deepens the fractures and brings to light festering resentments that were already present before the accident; in Midsommar (2019), a research trip to a secretive cult serves as the backdrop for what is essentially a break-up drama between a bereaved woman and her narcissistic, manipulative boyfriend. In both films, characters emotionally stunted by years of emotional mistreatment and reeling from intense personal trauma must gradually cut themselves free from the toxic elements in their lives and achieve a rough form of catharsis. Now, in Beau is Afraid, Aster focuses on a middle-aged recluse who has never gotten over the abuse he suffered as a child by his hyper-critical and possessive mother.
The main issue I have with Hereditary and Midsommar is that the characters are so thinly sketched it is difficult to become seriously invested in their emotional journeys. The central couple in Midsommar, for example, are so devoid of any kind of discernible inner life that it is impossible to imagine how they met, what attracted them to one another, or what their relationship was like during its early stages. This isn't helped by the rigidity of Aster's approach, on both a narrative and a formal level. Aster favours fussy symmetrical tableaux, slow pans, and sterile master shots filled with negative space. Because Aster's hermetically sealed style is more interested in crafting an ambience of increasingly ratcheting dread, punctuated with brief moments of extreme violence and bodily mutilation, then fleshing out emotional or psychological details, it can feel like his characters are little more than pawns being pushed towards their pre-determined fates. Unlike Hereditary and Midsommar, Beau is Afraid isn't working within the boundaries of a pre-established genre framework, instead opting for a more episodic, freeform structure. The prospect of Aster breaking away from the restrictions of a three-act generic formula may initially sound promising, offering Aster the opportunity to liberate his style and delve into more unbridled filmmaking territory; unfortunately, however, Beau is Afraid feels just as airless and over-calculated as the efforts that preceded it.
As the film opens, the titular Beau Wassermann (Joaquin Phoenix) is preparing to leave the dilapidated, crime-ridden neighbourhood to embark on his annual visit to his childhood home. Beau, we later learn, visits his mother Mona (Patti LuPone) on the same day every year to commemorate his late father, who, he has been told, died at the moment of orgasm during Beau's conception. Beau was raised to believe that he suffers from the same rare heart condition that killed his father, and that he will meet a similar fate if he ever has sex. As a result, Beau has lived a life of severe sexual and emotional repression. He seemingly has no career, no acquaintances, and only leaves his grimy apartment to attend therapy sessions. Everybody Beau encounters during his daily routine is inexplicably hostile to him: from maintenance workers to cashiers to random passers-by on the street.
It doesn't take long to realise how the film fits into Ari Aster's ongoing auteurist project. If there is a single central theme that runs throughout Aster's body of work so far it is the paradoxical combination of intimacy and toxicity that drives abusive relationships."
A paragon of self-loathing passivity, Beau is constantly in a state of mental agitation but refuses to stand up for himself or take any steps to improve his situation. For most of his screen time, he is responding meekly to misfortunes thrust upon him by others. Over the first 40 minutes of the film, Beau's trip to visit his mother is hindered by an overwrought series of misfortunes: a set of keys are stolen from Beau's door when he has his back turned for a split second; the water in his apartment is shut off, forcing Beau to leave his apartment unlocked to buy bottled water from across the street to take with his medication; while dealing with a surly convenience store clerk, a horde of vagabonds swarm into his home and wreck the place; taking a bath to settle his nerves, Beau is attacked by an intruder and driven naked into the street; he is then held at gunpoint by a cop who mistakes him for an infamous serial killer who has been commits his crimes undressed in broad daylight. In the midst of all this, Beau is forced to call home to cancel the planned meeting; instead of receiving sympathy from his mother, she views this as a personal slight, and takes the opportunity to berate him for his supposed failures as a son throughout the years. The confrontation leaves Beau consumed by guilt even though he is a genuine victim of circumstance, and his sense of shame when is amplified exponentially when he calls back to make amends, only to be informed by a delivery driver that he has just found her decapitated body in the family living room.
This opening movement establishes the mix of caustic comedy and psycho-drama that Aster tries to balance over the entire film – it also immediately makes apparent the fundamental flaws in Aster's approach. Beau is Afraid clearly expects us to be emotionally invested, to some degree, in the emotional turmoil of its title character, but he remains a static and remote cypher. The series of calamities which besets him is clearly supposed to function as a hyperbolic reflection of the character's personal anxiety and tendency to catastrophise, but the way that Aster stages these events is so generic and reliant on stereotypes that it fails to reveal anything substantial about Beau or his relationships with others. Take, for example, the comically deranged swarm of homeless people who attack Beau whenever he leaves his apartment complex and eventually break into his home. There is no nuance to their representation; the idea of the unhoused existing as animalistic brutes willing to pounce at any moment is, clearly, a problematic and deeply classist one, and there is no indication that the film's portrayal of them is supposed to be a satirical commentary on Beau's own prejudices (Beau never demonstrates any real awareness of anxiety around his class or economic status). This is a recurring issue. Every character that Beau encounters is a broad, one-dimensional type: the shrill and superficial teenage girl; the excessively domineering and neurotic Jewish mother; the trigger happy, hyper-masculine veteran. It is clear that Aster is consciously working in the realm of paranoid fantasy, but this doesn't change the fact that the film's humour and its horror is primarily rooted in these tired clichés.
The endless piling on of misfortune after misfortune is the film's only real comedic strategy. None of these calamities are dramatized with any visual or verbal wit, and Beau is such a passive character that he doesn't register as an architect of his own demise. This is in stark contrast with a superficially similar film like the Coen Brother's A Serious Man (2009), another tragicomedy which delights in putting its timid and self-pitying protagonist through the ringer. While the Coens exaggerate elements of the character's environment for comedic effect, the film is still recognizably a funhouse mirror reflection of a very specific cultural milieu at a very specific era of time. Furthermore, Larry Gopnik is afforded enough agency to be a dynamic protagonist who consistently makes short-sighted decisions which makes situations worse for himself; Beau, in contrast, is merely reduced to a witness to the horrific things which happen to him.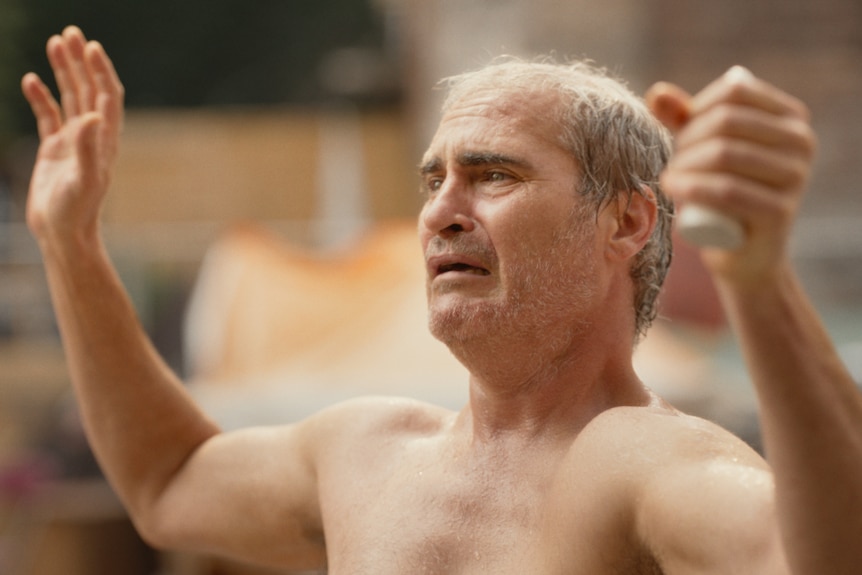 From here, the film takes the form of an odyssey back to Beau's birthplace. While recovering in the home of a married couple who accidentally struck him down with their truck, Beau is pressured by the family lawyer, Dr. Cohen (Richard Kind), to return as soon as possible so that they may proceed with their funeral – in her life, Mona stipulated to him that her funeral cannot go forward until her son is present, and, according to traditional Jewish law, burials must take place within 24 hours after death. Guilt-tripped by the lawyer, Beau must make the journey as a matter of the upmost urgency, despite being in a state of ill-health and despite being held back at every corner by a litany of further misfortunes. It's during this middle section that the film seriously starts to drag its feet, as none of Beau's encounters with a series of eccentrics and oddities sheds light on his mental state, his background, or the society in which he lives. The film, as a whole, isn't interested in societal critique; as becomes clear in the film's deflating denouement, Aster's only point of interest is the relationship between Beau and his mother. The film has nothing to say about the plight of the urban poor, the treatment of veterans suffering from PTSD, structural sexism, or any of the other themes that Beau is Afraid gutlessly skirts around. And even this central relationship between Beau and his mother is infuriatingly flat and one-note. Despite the punishing 3-hour running time, Aster doesn't add anything to the characterisation of Beau and his mother that we couldn't work out during their first phone call. Beau's mother is presented as a monstrously obsessive, dishonest and cockblocking shrew who will go to superhuman lengths to exert control over her son's life from beginning to end. Beau, for his part, is constantly cowed into submission by his mother but also feels too apathetic to challenge her or otherwise take any steps towards establishing a more enriching life.
It's a depressingly narrow thematic focus for a film which presents itself as a grandiose, ambitious auteurist gambit. All the film's flights of fancy, all of its detours into absurdism and surrealism, all fall flat because Aster ties it all to this juvenile core theme in such a thuddingly literal-minded way. Beau wears its ostensible 'weirdness' on its sleeve, but it never feels like it ventures into the truly unknown. The difference between Aster and other, more successful filmmakers who are able to blur the line between horror and comedy, the external world and inner life, the quotidian and the fantastical (directors like David Lynch, Andrzej Żuławski and Alejandro Jodorowsky, to name just a few) is that Aster remains utterly afraid of mystery, never allowing an image to resist straightforward interpretation or challenge the audience's logical understanding of what's being depicted onscreen. Every flashback is ultimately revealed to fit together in an over-determined, overarching design, the importance of every symbol and motif is painfully obvious. In Aster's suffocating aesthetic design, there is no space for grace notes, no space for ambiguity, no space for moments of genuine melancholy or beauty. By the time the film reaches its self-consciously provocative closing tableaux, it's hard to feel anything but tedium.
James Slaymaker is a journalist and filmmaker. His articles have been published in Senses of Cinema, Bright Lights Film Journal, MUBI Notebook, Little White Lies, McSweeney's, Kinoscope, Film Comment, and others. His first book Time is Luck: The Life and Cinema of Michael Mann (Telos Publishing). His films have been featured on Fandor, MUBI, and The Film Stage, as well as screening at the London DIY Film Festival, the Concrete Dream Film Festival, the InShort Film Festival and The Straight Jacket Film Festival. He is currently a doctoral student at The University of Southampton, where his research focuses on the late work of Jean-Luc Godard, post-cinema, and collective memory.