A Book Review by Thomas M. Puhr.
It's this nebulous balancing act between artistic risk and bottom-line business that makes such companies so fascinating, and books like this one so illuminating."
Not a week seems to go by without a new horror movie bearing the Blumhouse logo making the rounds, be it via streaming or in theaters. The production company has indeed become synonymous with contemporary horror to the extent that some critics – myself included – can take its cultural impact for granted. Sure, the quality of its content varies as wildly as the tonal shifts in David Gordon Green's Halloween reboot trilogy; but if you consider the company's overarching success rate, which began in earnest with 2007's runaway hit Paranormal Activity and continues today with the nearly instant cult status of M3GAN, it's hard to deny Jason Blum's ability to find and/or fund projects that inject much needed energy (and money) into an often stagnating industry.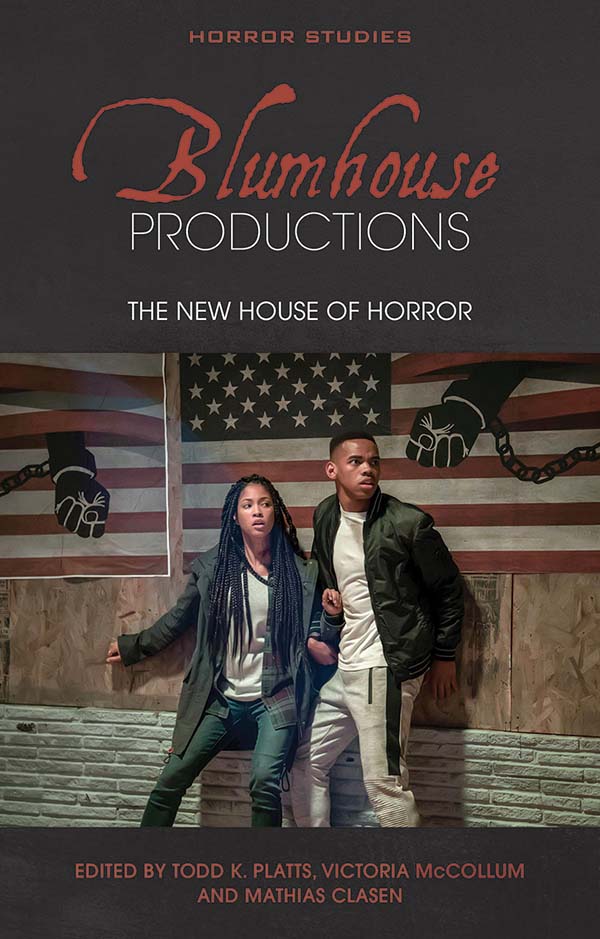 As the first book to focus exclusively on the company, Blumhouse Productions: The New House of Horror (University of Wales Press, part of their Horror Studies series) has a lot of ground to cover. Editors Todd K. Platts, Victoria McCollum, and Mathias Clasen cleverly do so by grouping the chapters into one of three categories: "the economic influences on Blumhouse's productions; content themes that span across individual films and franchises; and key films and franchises." This approach is doubly effective in that it both looks far beyond the close formalist readings that tend to dominate such publications and highlights the shared economic preoccupations between the company itself and the financial anxieties central to its unique brand of "recessionary horror." As Craig Ian Mann notes in his entry "Space Invaders," releases famous (the Insidious, Paranormal Activity, and Purge franchises) and forgotten (Dark Skies) alike "are united by their tendency to put children in peril, a metaphor for the recession's potential to destroy the lives of middle-class families."
A tried and true formula guides the horror brand, one analyzed at length in Platts' opening chapter, "Blumhouse at the Box Office, 2009-2018." The producer has a knack for scooping up "risky" scripts that others have rejected and producing them on the cheap (3-5 million or so), thus allowing directors greater creative freedom. Perhaps the most significant example of this model in action is Get Out, the subject of Stefan Sereda's standout chapter, "'Those Things You See Through.'" According to Sereda, Jordan Peele's 2017 debut – which recently got a spot on Sight and Sound's poll of the 100 best films of all time – subverts the oppressive language of so-called post-racial Hollywood in order to show how "African-American stereotypes never disappeared, but reformed."
Other chapters similarly explicate the pointed sociocultural critiques fueling Blumhouse releases: Racheal Harris posits that its many haunted house films reflect "not only…the crumbling state of the nuclear family, but…the shifting definitions of gender and their associated gender roles"; Fernando Gabriel Pagnoni Berns that its critical depictions of fathers (see Ethan Hawke's egocentric author in Sinister) are firmly rooted in the Gothic tradition of toxic male aggression; Amanda Rutherford and Sarah Baker that the Purge series frames "religious quotes and themes as a reprehensible excuse for the 'sanctioned' violent political attacks against others"; and John Kavanagh that 2019's Black Christmas expands the original's depiction of isolated, individualized misogyny in order to indict institutionalized misogyny as a whole. The list goes on, culminating with Allison Schottenstein's "What Lies Behind the White Hood," which argues that Spike Lee's BlacKkKlansman (a rare non-horror release) represents Lee's coming to terms with Black/Jewish animosity and concluding that both marginalized groups "must unite together against the common enemy – white supremacy."
Chapters explicate the pointed sociocultural critiques fueling Blumhouse releases…. But let's not forget that Blumhouse is ultimately a business – one fighting against financial (in)stability…."
But let's not forget that Blumhouse, like any other company, is ultimately a business – one fighting against financial (in)stability within a highly competitive market. There's something almost poignant in reading that Blum notoriously passed on The Blair Witch Project while working for Miramax; could this missed opportunity have fueled his commitment to getting another found footage classic, Paranormal Activity, off the ground? Would he be sitting where he is today if it wasn't for the little $15,000 movie that could? Maybe not.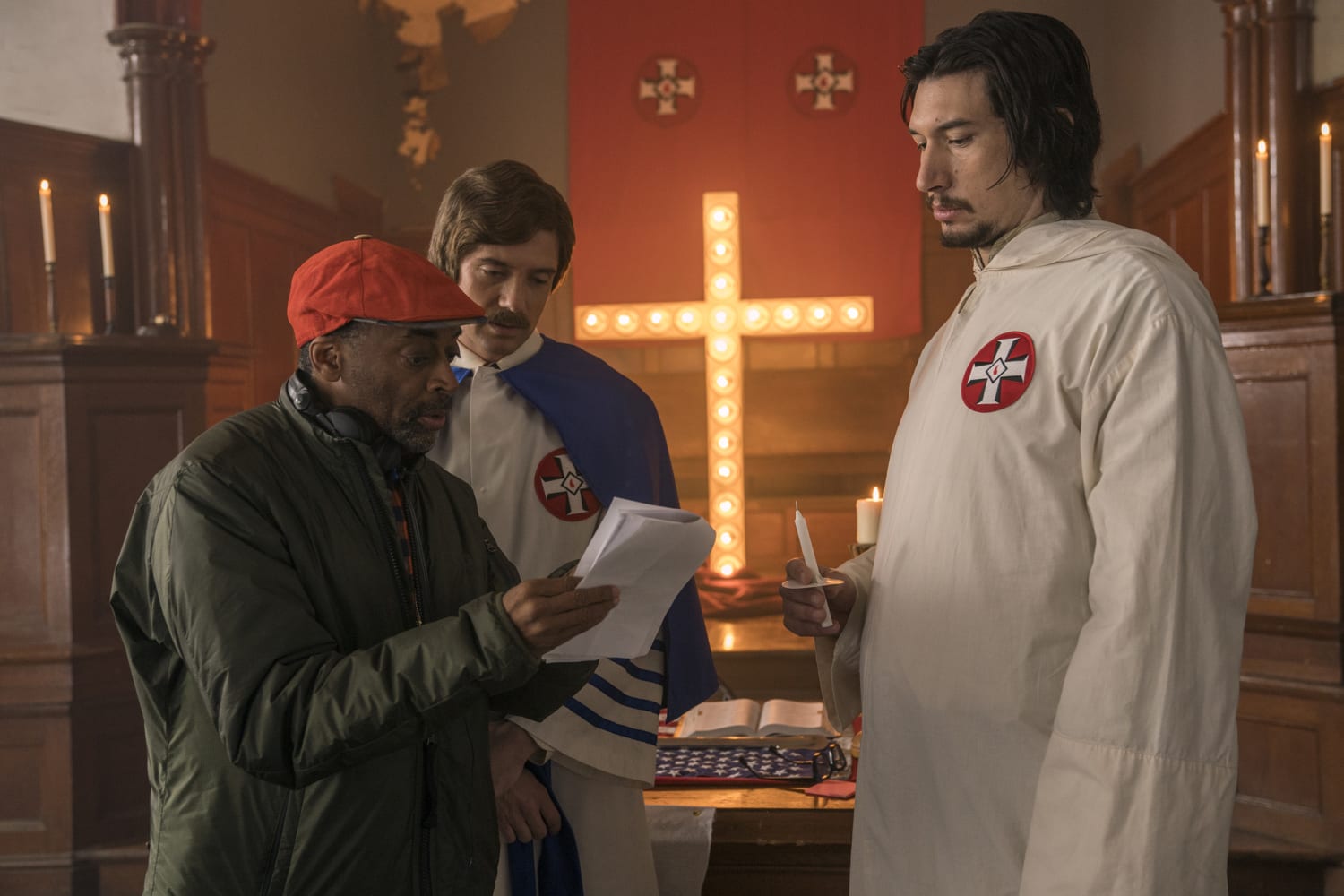 These are the kinds of what-ifs that can change the course of the industry – not to mention a number of careers, on both sides of the camera – on a dime. It doesn't take a business-savvy mind to recognize this possibility, nor does it take one to recognize that no decisionmaker is infallible; consider 2015's Jem and the Holograms, which "holds the distinction of having [the] lowest opening weekend gross for a wide release film ever at $1.4 million," and which Blum was sure would be a smash.
It's this nebulous balancing act between artistic risk and bottom-line business that makes such companies so fascinating, and books like this one so illuminating. I can't help but question whether the thematic concerns of Blum's most successful films are a thoughtful commentary on, or merely a reflection of, his profit focus. After all, the claim that the Purge or Paranormal Activity franchises persist in order to critically probe this American life feels a bit too flattering; does the demand for these sequels really exceed their supply, or is Blum simply milking his franchise cash cows for all they're worth?
The answer, to be fair, is probably somewhere in the middle. The producer is clearly interested in releasing quality, thoughtful entertainment (at least some of the time), as long as it doesn't disrupt the formula too much. And if this approach results in the occasional Get Out or The Invisible Man, then why complain? Horror afficionados have much to be thankful for when it comes to the house that Blum built.
Thomas Puhr lives in Chicago, where he teaches English and language arts. A regular contributor to Bright Lights Film Journal, he has published "'Mysterious Appearances' in Jonathan Glazer's Identity Trilogy: Sexy Beast, Birth and Under the Skin" in issue 15.2 of Film International. His book Fate in Film: A Deterministic Approach to Cinema is available from Wallflower Press.