By Thomas Gladysz.
Though celebrated today, Pandora's Box experienced one of the more troubled exhibition histories of just about any film of its time."
Today, Pandora's Box is considered one of the great films of the silent era, as well as a masterpiece of Weimar cinema. It is still regularly screened around the world, and still makes best-of lists in publications like the Guardian and Sight & Sound. Film critics such as David Thomson, Roger Ebert and Pauline Kael have all sung its praises, as have film makers like Quentin Tarantino, who a few years back named it one of his favorite films.
However, it wasn't always that way. Pandora's Box has, in fact, experienced one of the more troubled exhibition histories of just about any film of its time. In the United States, this little-documented history includes censorship, wholesale cuts, damning reviews, and "adults only" ads which scream "Sin Lust Evil!"
Pandora's Box got off to a bad start, even in Germany, where it was made. This 1928 production is based on two plays by the writer Frank Wedekind (famous today as the author of Spring Awakening). They tell the story of Lulu, in the film a showgirl and amoral femme fatale to which men are drawn – like moths to the flame. When director G.W. Pabst announced his intention to make the film, he also announced a nationwide search for an actress to play the iconic role. Famously, he passed on Marlene Dietrich. And controversially, Pabst chose a then little-known American actress named Louise Brooks. In March, 1929, the Herald Tribune reported from Berlin, "For the part of Lulu, the heroine of the play, Pabst brought Louise Brooks from Hollywood. Despite the charm of the American girl, the German critics are not satisfied with Pabst's choice for the role."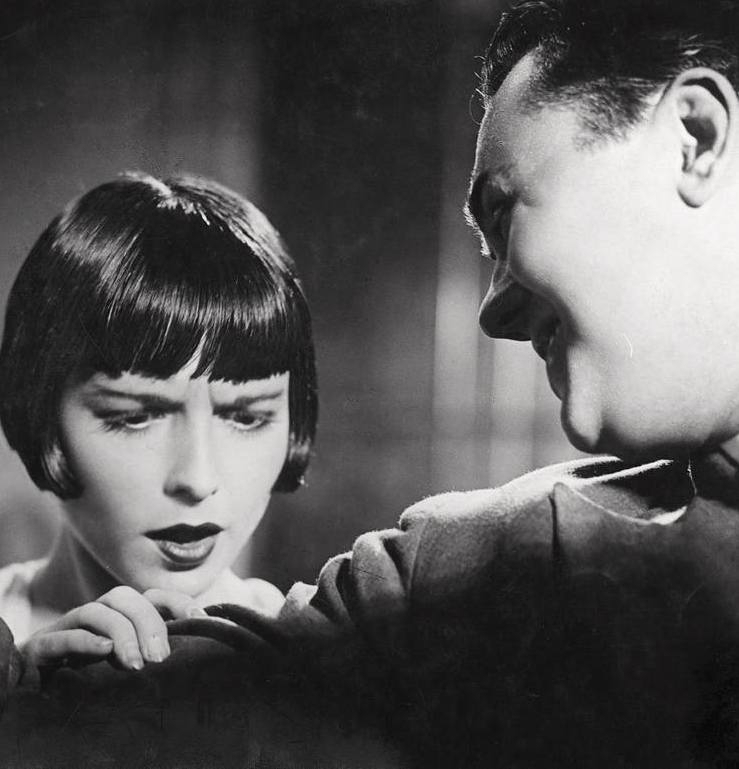 Pandora's Box debuted in Berlin at the beginning of 1929, where it received what can best be described as middling to poor reviews. Brooks' acting was criticized, and the film itself was attacked as being unfaithful to its famed literary source. German critics and censors were likewise taken aback by what was then considered the film's frank sexuality. Among other things, it includes what is thought to be the screen's first lesbian character. The poet H.D. (Hilda Doolittle), writing in the Swiss / English journal Close Up, noted the controversy swirling around the production, stating it "passed by the German censors after a stormy discussion of several hours duration."
Pabst's choice of Brooks was said to be a mistake, and her restrained, ambivalent embodiment of Lulu came under fire. Many German critics stated she looked attractive but otherwise appeared unconvincing. One German critic called Brooks "an inanimate dummy." Another, the famed Siegfried Kracauer, thought her not enough of a "whore." Variety's correspondent in Germany chimed in with a critique hardly sympathetic, "Louise Brooks, especially imported for the title role, did not pan out, due to no fault of hers. She is quite unsuited to the vamp type which was called for by the play from which the picture was made."
In the months that followed, Pandora's Box opened – or tried to open, around Europe. Notably, the film was cut just about everywhere it was shown. In France, where it played under the title LouLou, censors thought it indecent for a father and son to vie for the same woman. Their solution was to tinker with the intertitles and convert the son to his father's male secretary. Despite drastic changes, Loulou found a home in the cinephilic film clubs of Paris. Writing about one such screening in 1930, a French critic praised the film but noted it's "abominable mutilation." In England, where it was shown with an adults only rating and cut to 80 minutes (down from a reported 131 minutes), a London newspaper noted the film was "in a chaotic form which reduces it from an entertainment to a study." The film was banned for years in Norway, Sweden, Finland, and The Netherlands.
By the time Pandora's Box opened in the United States in December of 1929, nearly a third of the film was reportedly missing. The 55th Street Playhouse in New York City, a small art house that debuted it, projected a statement ahead of the film lamenting it had been censored."
Pandora's Box did play in South America, and in parts of Asia. In Cuba, it was shown under the title, Lulu la Pecadora, which translates into English as Lulu the Sinner. In the Dutch East Indies (modern-day Indonesia), De doos van Pandora was heavily promoted but still prohibited for persons under 17 years of age. In Japan, where it was shown under the title Box of Pandora, the film received what might have been its warmest though still tentative welcome; that's because Brooks, who was considered a modan gāru (modern girl) with modern hair, was the subject of a cult following.
By the time Pandora's Box opened in the United States in December of 1929, nearly a third of the film was reportedly missing. The 55th Street Playhouse in New York City, a small art house that debuted it, projected a statement ahead of the film lamenting it had been censored. The theater also apologized for an added saccharine ending in which Lulu joins the Salvation Army – a dramatic change from Pabst's original ending in which Lulu is murdered in London at the hands of Jack the Ripper.
Quinn Martin, critic at the New York World, wrote "It was the privilege of a few reviewers to see Pandora's Box shortly after it was received by its American exhibitors and before the New York censors got at it. In the beginning it appeared to this one to be a rather harmlessly lewd little exhibition with misery and murder and a touch of abnormalcy along other lines, but at that time, at least, it told a sort of story. Now, it is recommended principally, if at all, for its striking photographs of Miss Louise Brooks, the American actress. At least, the persons who have charge of our film morals have seen fit to leave Miss Brooks's back, legs, and haircut as they pictured at the outset."
Billboard magazine had a similar take, "This feature spent several weeks in the censor's board's cutting room: and the result of its stay is a badly contorted drama that from beginning to end reeks with sex and vice that have been so crudely handled as not even to be spicily entertaining. How anyone could fall for la belle Brooks with the clothes she wears in this vehicle is beyond imagination…. This is a silent production that has no business playing anything but guild theaters."
Photoplay, one of the leading fan magazines of the time, noted "When the censors got through with this German-made picture featuring Louise Brooks, there was little left but a faint, musty odor. It is the story, both spicy and sordid, of a little dancing girl who spreads evil everywhere without being too naughty herself." Other publications called it "disjointed," "dreary," "rambling," "horrible," and "incomprehensible".
With its butchered, nearly incoherent story, some critics shifted blame for the film's failure from censors to the film's star. Mordaunt Hall, the critic for the New York Times, piled it on when he wrote, "Miss Brooks is attractive and she moves her head and eyes at the proper moment, but whether she is endeavoring to express joy, woe, anger or satisfaction it is often difficult to decide." And so too did Regina Crewe, in a New York American article titled "Louise Brooks in German Picture That's Not So Good." Crewe stated "But not even the censors may be blamed for all the film's deficiencies – the acting, for instance, and the rather absurd melodramatic story…. Unlike Anna May Wong, and other Hollywood actresses who have blossomed into skilled players under European influence, Miss Brooks doesn't seem to have improved since her departure. She is comely as ever, but her pantomimic abilities are sadly limited…. The picture is one of the less deserving efforts and was received with apathy by the audience."
But was it? Despite an onslaught of bad reviews, the New York Sun reported Pandora's Box ". . . has smashed the Fifty-fifth Street Playhouse's box office records. It will therefore be held for another week." At a time when most new or first-run films played only one week, a two-week run was considered respectable, and a little above average.
Today, it's widely thought by film historians that Pandora's Box was a box-office bust, especially in the United States. That's true. By 1929, sound films dominated theaters and poorly reviewed silents from abroad were little in demand. In fact, it is widely believed that the movie's first and only showing in the United States was its brief run at the 55th Street Playhouse in December of 1929, after which the film and its star fell into obscurity. It is also thought that the first post-1929 American screening of the film took place three decades later, in June, 1958 at the Eastman House in Rochester, New York. Both assumptions are incorrect.
Only in the last few years, as searchable newspaper archives have come online, has the lost history of Pandora's Box in the United States come to light. That history includes alternative titles, "adults only" showings, added sound effects, and even a screening sponsored by the famed architect Frank Lloyd Wright.
And what's more, there is some evidence to suggest Pandora's Box may have debuted earlier than thought. A brief write-up in the October 31, 1929 New York Evening Post stated the film would be opening at the 55th Street Playhouse on November 2, one month earlier than thought. Another piece, which appeared in the Jersey Journal in nearby Jersey City, New Jersey, also anticipated the film's opening on November 2. There is also a November 3 listing in the New York Daily News which indicates the film, under the title Box of Pandora, was already being shown.
But then the paper trail ends, as if the film had stopped showing after just a day or two (if it did show at all). According to advertisements and listings found in various New York newspapers, the 55th Street Playhouse – an art house which specialized in foreign films – replaced Pandora's Box in early November with Secrets of Nature, an UFA Production from Germany which the theater had presented earlier in the year.
When the 55th Street Playhouse first opened in 1927 under the direction of the Art Cinema League, it billed itself as "The Sanctuary of the Cinema." It was where foreign films, art films, experimental films, and other independent films found a home. The November listings for Pandora's Box show, in actuality, only the diligence with which the 250-seat venue went about getting out the word regarding its programming – not what films actually played. But still, it is possible that the film played once or twice, and was then pulled. Hence, Quinn Martin's comment that "It was the privilege of a few reviewers to see Pandora's Box shortly after it was received by its American exhibitors and before the New York censors got at it." We may never know for sure.
Part of the problem in documenting when a film played at any given theater in the now distant past (almost a century ago) is that newspapers didn't list every film showing every day in every theater, and some theaters – especially smaller venues – didn't advertise regularly. And thus, exhibition records sometimes need to be pieced together through various sources. Compounding the difficulty is the fact that Pandora's Box was listed, promoted and advertised under three different titles. Most times, it was Pandora's Box. Sometimes it was Box of Pandora. And on occasion, it was written up and advertised under its original German title, Die Büchse der Pandora, in one or another of the three German-language newspapers serving NYC. (As Die Büchse der Pandora, the film also received non-English language coverage in Novoe russkoe slovo, a Russian-language newspaper in New York, as well as in Forverts, the Yiddish-language newspaper better known as the Jewish Daily Forward.)
What is certain is that a heavily censored version of Pandora's Box opened or reopened at the 55th Street Playhouse in late 1929. But on which day exactly, we can't say – either on November 30, or December 1 or December 2 – newspaper clippings suggest each as a probable date. The film then played for about two weeks, with the final screening taking place on December 13, 1929, according to listings in both the New York Evening Post and Brooklyn Standard Union. After that, the film didn't so much fade away – as is commonly thought, but go "underground" – playing the art house circuit and showing up here and there over the next few years.
After New York, the film's next known public screening took place six weeks later, when Box of Pandora opened at the Little Theater in Baltimore, Maryland on January 26, 1930. Advertised as an "Ultra-Sophisticated Drama," the film managed a one week run after encountering the same censorship problems experienced in NYC. (It probably didn't help sell the film that Brooks was uniquely, if not confusingly, described in a Baltimore newspaper as a "German flapper gold digger of Berlin".)
This previously unknown Baltimore screening is especially notable, not only for the fact that it was the first after New York, but also for the revelatory comments which appeared in one local paper, the Baltimore Sun. Writing on January 28 under the initials D.K., the Sun critic stated they had attended an earlier, private screening of the uncensored film on New Years's Eve, 1929. Though it is not known what D.K. meant by uncensored, the critic seemingly suggests the print they saw differed from what had been publicly screened in New York.
D.K. authored a surprisingly opinionated piece, writing "In many respects it is a remarkable film and in others it is a disappointment…. This print has been mutilated and distorted by the Maryland Board of Motion Picture Censors, so that seeing it is like reading a book with several chapters cut out and an ending from another volume pasted in the back." D.K. went on to say they felt the censors weren't to blame, "since it is their duty to execute the laws formulated for the protection of those likely to be influenced by pornographic films." The Baltimore critic added, "The fact that the Box of Pandora deals with sex in a thoughtful, mature and honest way apparently has no bearing on the case…. The objection to The Box of Pandora seems to be based on the fact that it digs out certain facts, morbid and ugly in themselves, but which must be assimilated by those who would know the world in its entirety."
The Baltimore critic also noted that in the "correct version" of the film, Lulu is murdered by Jack the Ripper. "Throwing out this ending, the censors forced the substitute of one showing Lulu, for no apparent reason, abruptly following a Salvation Army band to a better and finer life. This is an artistic monstrosity; the original ending was inevitable and thus good."
D.K.'s critique of the film pivots on two letters, "un". The Baltimore critic wrote, "The plot deals with a beautiful, totally unmoral woman whose love, given freely to many men, bring ruin to each in turn." That assessment, which hinged on Lulu being unmoral rather than immoral, would reemerge some sixty years later in Barry Paris' 1989 biography of Louise Brooks. That distinction, in more recent years, also helped change the conversation around the character of Lulu.
D.K. stated, "Louise Brooks was imported for the role of Lulu, and she does the most interesting acting of her career. She is fascinating….," while adding the picture "worth seeing, if only to learn what can be done with the word of a famous playwright who has no equal in his own field." The film's brief run at the Little in Baltimore, however, would mark its last critical hurrah.
With no fanfare and little advertising, Pandora's Box returned to New York City a few months later, in May of 1930. The occasion was a three-day run at the 600-seat Acme Theater on Union Square, where, for 25 or 35 cents, one could take in the unlikely double bill of Büchse der Pandora and Stampede. (The latter is a British production – also known as Africa in Flames – shot in the Sudan which centers on two tribal boys who traverse the countryside looking for a water source.) Seemingly, the only advertisement for this May 10-12 screening appeared in the New Yorker Volkszeitung, one of the German-language newspapers in NYC. Notably, the Acme advertisement describes Büchse der Pandora as a dynamic, astonishing, and sophisticated German drama for "adults only".
After that, the film's exhibition record slows. One year later, Pandora's Box was shown beginning on May 16, 1931 at another theater named Little, this one located in Newark, New Jersey. This Little theater (likely part of an East Coast circuit of repertory theaters) was a 300-seat second-run house not above showing sensational or exploitative fare. Newspaper ads for this three-day showing warned "Adults Only" – and the film was luridly promoted as "The German sensation that actually reveals most of the evils of the world" while offering "Raw reality! A bitter exposé of things you know but never discuss." The film was advertised as having English subtitles, and being "Synchronized with Thrilling Sound Effects". The source of the subtitles, and the nature of the sound effects, is unknown. (Coincidentally, another of Brooks' films, the Michael Curtiz directed pre-code farce, God's Gift to Women, was also showing in the area at the larger Regent theater.)
Four years after it first debuted in New York, Box of Pandora returned to the city once more, this time to the 5th Ave. Theater for three days starting on December 5, 1933. And again, the film was advertised as "Adults Only" and tagged with the words "Sin Lust Evil!" By this time, the film had fallen into the realm of the lurid and sensational, a sort of early grind house attraction which ran continuously between 9:30 am to 11:00 pm. Patrons could come and go as they pleased. Notably, neither Pabst nor Brooks are mentioned in the advertisement. It was just another flick advertised between Clara Bow's Hoopla and the Marx Brother's Duck Soup.
To date, only one other 1930s showing of Pandora's Box in the United States has come to light. It was a one-off screening, and far from where one might expect the film to show up. On May 6, 1934, The Box of Pandora was shown at the Sunday playhouse at Taliesin, the country estate of Frank Lloyd Wright. Built by the famed architect and located in southwestern Wisconsin near Spring Green (about 50 miles from Madison), Taliesin served as Wright's home and studio, with its playhouse acting as a rep-house which showed foreign and art films to the local community (which included a number of German-Americans). In a paragraph on the screening published in the Wisconsin State Journal in Madison, the Pabst film is described, quite simply, as "an outstanding German production". Nothing else is known about the print shown at Taliesin except that it was shown with English subtitles. Also not known is whether or not Frank Lloyd Wright was in attendance.
There was little interest in Pandora's Box in the 1930s. The few exhibition records uncovered so far may be the only instances of the film having been shown in the United States at the time. There may be others, like a one-off screening at a university, but so far, no others have come to light.
Apart from these few scattershot screenings, Pandora's Box was seldom mentioned in the American press. It was an obscure film few had heard of, and most had never seen. The reception Pabst's films experienced in the United States was described by W. Ward Marsh, of the Cleveland Plain Dealer, one of the finest newspaper critics of his time. In his 1935 article, "Looking at the Labors of Two Great Directors," Marsh sets the scene: "From Pabst came Greta Garbo, Asta Nielsen and Werner Kraus in The Joyless Street, a tragic post-war study which came over in such an emasculated version that it gave no pleasure. His Secrets of the Soul was equally butchered by censorship both here and in England. But a good deal of his work has not been shown here at all. For example, I would like to see his Love of Jeanne Ney with Brigitte Helm which he did in 1927. A year later, believing he saw something in our own and now almost forgotten Louise Brooks, he cast her in Pandora's Box, which apparently proved that he was not entirely right. Just the same I should like to see it, as well as his Crisis. And I'm certain that were his White Hell of Pitz Palu to be brought back again it would have greater appeal this time than the other time it was shown. Whether you believe it, there is now an infinitely greater interest in the foreign film than ever before. Witness the fact that we have kept a foreign picture house open nearly a year, constituting a record for Cleveland." Notably, Marsh admitted he had not seen Pandora's Box, but still repeated the received wisdom that Brooks was no good in the role of Lulu.
Other times, when Pandora's Box was mentioned, the film was merely referenced in relation to some newer work by Pabst then being shown in the United States. One such film was Pabst's anti-nationalist Kameradeschaft. In 1933, it played in Philadelphia at a local art house. In explaining who this foreign director was to its readers, one local newspaper used a familiar name and near coded language to put the director's work in context "… Pabst's first recognition in the film world [came] when he introduced Greta Garbo to the screen in Streets of Sorrow. Next followed Pandora's Box, known to lovers of fine film fare…."
One such lover of fine film fare was George W. Lighton, an idealistic, bespeckled 20-year-old film buff from Louisville, Kentucky who would later die fighting fascism in the Spanish Civil War. On January 2, 1931, a letter from Lighton was published in the Louisville Courier Journal. This letter to the editor was written in response to an article published in the paper some ten days earlier noting the prior year's best films. In his letter, Lighton wrote, "In last Sunday's Courier-Journal, Mr. Boyd Martin selected what he considered the ten best motion pictures of the year 1930. His judgment was necessarily limited to American-made talkies in general and those exhibited in Louisville in particular." Lighton then went on to give his 10 best motion pictures. Listed at number five was Pandora's Box, of which Lighton wrote, "German silent film, directed by G.W. Pabst. Cinema at its most naturalistic. From Frank Wedekind's story. The film reaches its most adult stage." Lighton ranked Pandora's Box just above a better-known kindred effort, The Blue Angel, in which Marlene Dietrich played a not dissimilar character, Lola.
In his letter, Lighton all but admits to having not seen most of the films he hoped to call to the public's attention. Perhaps he was just showing off his knowledge of foreign cinema, or more likely, as he suggests, Lighton was hoping a local exhibitor might take notice and screen some of the films in Louisville. It's hard to say. Nevertheless, it is a remarkable list which includes not only Lewis Milestone's All Quiet on the Western Front but also works by the likes of Pabst, Sergei Eisenstein, and Joseph von Sternberg. Lighton's letter begs the question, how could a young film buff in Louisville, Kentucky with a preference for art house films know of these movies, at least enough to make pithy comments on each. Perhaps he subscribed to Close-Up, or Cinema (another early film journal to which he once reportedly contributed), or perhaps he somehow got himself (by car, bus, or train) to an art-house in Baltimore or Philadelphia where these films might have shown. Again, it is hard to say.
One other mention of Pandora's Box in the American press which stands out occurred in the August 7, 1932 issue of the Billings Gazette from Billings, Montana. That day's paper carried an article headlined, "Soviet Papers Received Here Indicate Complete Censorship of Columns." In it, the Montana newspaper mentioned it had come into possession of copies of the Moscow Daily News, an English-language newspaper published in the Soviet Union. The Billings Gazette had received a batch of newspapers from a Billings resident whose brother had been working for eight years in Russia as an agriculturist on a "government conducted" farm. In scanning the Soviet papers, the Montana newspaper noted the relentlessly upbeat tone found in every article. It also noted how few advertisements there were from private businesses. The exception, the Montana paper observed, were ads for theaters and films: the article noted, "Some of the showhouses have Soviet films and talkies but one lists Lulu, a German silent film, featuring Louise Brooks and another a 'foreign' production, Moulin Rouge."

In the early 1940s, Brooks was little remembered, though not wholly forgotten. She received a few shout-outs in a few syndicated gossip columns, and, she is mentioned in passing in 1943 in Charlie Chaplin's F.B.I file, at the time the actor was under investigation for having violated the Mann Act. (The Little Tramp and the future Lulu had had an affair in 1925.) And, that same year, she was referenced in A Pictorial History of the Movies, by Deems Taylor; the book contains one of the earliest references to the actress, but not to Pandora's Box. Instead, Taylor's pioneering, illustrated survey of film contains a still from Beggars of Life (1928), depicting Brooks, Wallace Beery, and Richard Arlen, which notes the William Wellman film "differed from the average 'sync'" film.
One footnote to the history of Pandora's Box in the United States also occurred in 1943. At the time, Brooks was living in New York City and barely making ends meet. She had made her last film five years earlier, in 1938, a B-Western with John Wayne titled Overland Stage Raiders. Having quit Hollywood, she saw few friends from her once illustrious past when her face graced the cover of film magazines from around the world.
One of Brooks' only friends was Lothar Wolff. The two had met in Berlin in 1928, when "Woofie" was just nineteen. Though young and inexperienced, he handled publicity for Pabst on Pandora's Box (and later Diary of a Lost Girl), and succeeded in placing stories and pictures of the actress in publications all across Europe. At the time, Wolff was junior employee at Parufamet – the European distributor for Paramount, UFA, and Metro-Goldwyn-Mayer – who handled publicity materials for the three studios. As he admitted, his job amounted to little more than stamping the backs of images "Please credit …". Wolff had a fan's crush on Brooks, who he described as "extremely beautiful." According to "Reminiscences of an Itinerant Filmmaker," a 1972 article by Wolff published in the Journal of the University Film Association, Pabst visited Parufamet in 1928 while searching for an actress to play Lulu. When he met the director, Wolff put forward the little-known Brooks. "My boss asked me – since I handled hundreds of stills of American actresses – for suggestions when Pabst came to see him one day. I presented him with stills of my favorite actress. She was an ex-Ziegfeld girl, a Paramount star: Louise Brooks. The search was over. She got the part and I got the job, moonlighting, doing the production publicity."
Wolff's account runs counter to the long-held notion that prior to selecting Brooks, Pabst spotted the actress in Howard Hawks' 1928 film, A Girl in Every Port, and that is what got her the role. (As German exhibition records indicate, however, the Hawks film wasn't shown in Germany until after work on Pandora's Box had begun.) The stills Wolff may have handed Pabst, and those he likely took with him, depict Brooks dressed in a black tutu. These were promotional shots from the 1927 film Now We're in the Air, which was then making the rounds of German theaters. Perhaps not coincidentally, those same cheesecake pictures of the actress wearing a black tutu are flashed across the screen in Pandora's Box.
Now working as a film editor in New York, Wolff was acquainted with various notables in the film world. In 1943, Wolff took Brooks to lunch with Iris Barry, the founder of the Museum of Modern Art film department. Wolff and Brooks hoped to convince Barry, then perhaps the most important figure in film preservation, to acquire a print of Pandora's Box for the MoMA collection.
It would take decades for Pandora's Box to come back into circulation. The film was first shown in Los Angeles only in 1962, and in San Francisco in 1974. (The film had debuted in nearby Berkeley, California in 1972.) Decades later, Pandora's Box finally made good in 2006, the centenary of Brooks' birth."
Brooks and Wolff, fond friends with a shared past, may have been searching for some kind of validation in trying to convince Barry to acquire a print of the Pabst film. Brooks likely felt Pandora's Box was the most significant film in which she had appeared, and its acceptance into the canon would at least help resurrect her reputation, if not her career. Wolff may have had another motivation, as he was the one person largely responsible for helping place Brooks in consideration for the role of Lulu. His success in doing so, and the success he found in moonlighting as a publicist on Pandora's Box, helped launch his own film career as an editor and assistant director. Whatever they felt, both Brooks and Wolff must have been disappointed when Iris Barry said no, telling the two Pandora's Box had no "lasting value."
One person who felt the film had lasting value was Max Goldberg. He was the treasurer of Moviegraphs, Inc., which ran the 55th Street Playhouse where Pandora's Box was first shown in the America. According to an article in Billboard, he and Moviegraphs managing director Joseph R. Fleischer were in Europe in June of 1929. While there, they secured the distribution rights to a "number of important European pictures." Among them was Nana, The Italian Straw Hat, and Pandora's Box. Despite the censorship troubles the film experienced when it first was shown in New York in late 1929, Goldberg, Fleischer and Moviegraphs must have had faith in the film. In 1932, Moviegraphs applied for and received a new exhibition license for the film from the New York Motion Picture Commission. Unfortunately, the Commission's correspondence and censorship records, which would have detailed what scenes and titles had been eliminated from the film, are lost. Little else survives in the film's censorship file, except for its exhibition licenses, a requirement whenever a film was then shown in New York state.
It would take decades for Pandora's Box to come back into circulation. The film was first shown in Los Angeles only in 1962, and in San Francisco in 1974. (The film had debuted in nearby Berkeley, California in 1972.) Decades later, Pandora's Box finally made good in 2006, the centenary of Brooks' birth. To mark the occasion, New York's Film Forum screened a then new 35mm print of the film; and remarkably, during its short run, Pandora's Box was reported by IndieWire to be the second highest grossing independent film in the United States. That's not bad for what was then a 77-year-old silent.
In the years since its rediscovery in the late 1950s, Pandora's Box has been screened a number of times around the United States, though perhaps nowhere more often than in the San Francisco Bay Area (the almost birthplace of writer Frank Wedekind), where the film has acquired a strong following. On May 6, 2023 the Club Foot Orchestra joins forces with the San Francisco Conservatory of Music to accompany Pandora's Box at the historic Paramount Theatre in Oakland. For this live cinema event, which by the way marks the film's first ever Oakland showing, the sponsoring San Francisco Silent Film Festival will screen the 2012 restoration in a DCP from the Deutsche Kinemathek in Germany.
The 2012 restoration, spearheaded by the late David Ferguson and Angela Holm, reportedly ran into the six figures and was underwritten by the Playboy founder Hugh Hefner (himself a big fan of Brooks); although still incomplete, this print may be the closest contemporary audiences ever get to Pabst's original work. It may also be the closest viewers will ever come, in the words of the French archivist Henri Langlois, to an art "so pure that it becomes invisible." Information about the Oakland, California screening can be found here.
All images courtesy Louise Brooks Society, except for image of the 55th Street Playhouse circa 1935, which is courtesy of the Cinema Treasures website.
Thomas Gladysz launched the embattled Louise Brooks Society website in 1995. He is the author of numerous articles on early film, as well as five books related to the life and films of the actress. Forthcoming is The Street of Forgotten Men: From Story to Screen and Beyond, with forewords by Kevin Brownlow and Robert Byrne.
Read also: